Arcoma Academy Omnera
TRAINING PROGRAM 2023
In autumn 2023, we have scheduled a series of training sessions, including Service and Installation trainings, Product trainings, and Application trainings.
The deadline for registration is August 25th.
Please click on the link provided to access our training program for 2023.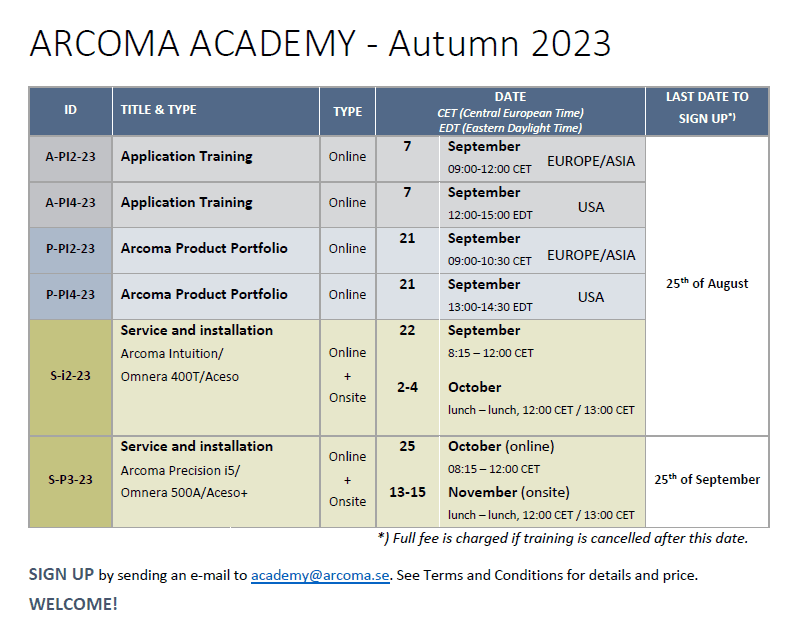 SIGNING UP
Sing up by sending an e-mail to academy@arcoma.se. We need name, title of the participants, company and contact information (e-mail and phone). You will receive a booking confirmation along with all information you need shortly after signing up.
ARCOMA ACADEMY
Arcoma Academy is our certification and education program including both installation training as well as application training for our partners and distributors. We provide trainings several times each year. Most of the trainings are held at our headquarters in Växjö, Sweden where our training facility is located.
All scheduled courses are carried out using our latest and fully equipped products. All staff members teaching the courses have deep technical knowledge and several years of first hand experience from selling, installing, servicing and troubleshooting our equipment!
Webinars
Sometimes we hold webinars. Click below to see documents and info from our webinars.
OUR TRAININGS
– Technical service training
– Service and installation
– Product portfolio training
– Application training