Self supporting X-ray system for quick and temporary needs.
ARCOMA X-ray cube
The Arcoma X-ray Cube is a standalone self-supporting x-ray solution that enables quick installation of an X-ray system in, for example a temporary hospital.
Set-up of this system can be done in less than 24 hours, and it is also smooth and easy to disassemble or move, when the needs change.
Self-supporting digital radiology solution
The Arcoma X-ray cube is a self-supporting x-ray solution, which means it can be installed in rooms where the ceiling is too low or not strong enough to support a standard installation.
Since the X-ray cube is self-supporting, it can also be used for temporary solutions or in temporary hospitals.
NO CEILING SUPPORT REQUIRED

FLEXIBILITY OF AN OVERHEAD TUBE WITHOUT THE NEED OF CEILING STRENGTH

PERFECT FOR TEMPORARY SOLUTIONS
X-ray equipment with quick installation
The X-ray Cube is a self-supporting, flexible x-ray solution that minimizes installation, construction work and installation costs. Set-up of this system can be done in less than 24 hours and it´s also quick to take down or move to a different location. 
The Installation cube is available in two different heights – 2,5 m (8' 3") or 2,8 m (9' 3").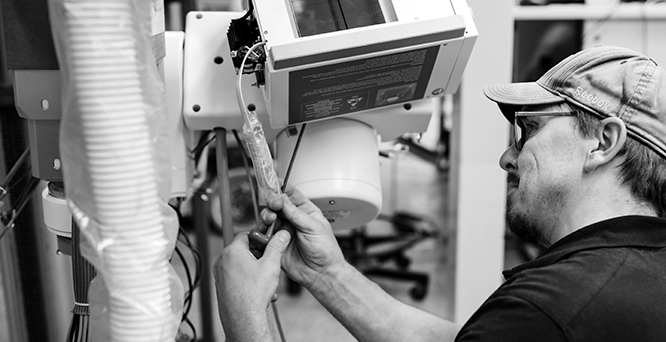 Perfect for temporary needs
The Arcoma X-ray cube is self-supporting, which means that it can be installed without ceiling support. This makes it ideal for usage in temporary hospitals, or other temporary medical solutions, as the x-ray system is quick and easy to install and can be moved if needed.
X-RAY ROOMS THAT LATER WILL MOVE
Delivered with Arcoma world class digital radiology solutions
The Arcoma X-ray Cube is delivered with Arcoma Intuition X-ray system that is a versatile digital radiography system that combines outstanding image quality with clinical flexibility, and high productivity for a wide range of radiographic applications.
The cost-effective, modular concept of the X-ray Cube allows you to configure the system to precisely fit your room and your clinical requirements.
X-ray system  with the latest technology detectors from Canon
Arcoma Intuition are powered by Canon's next generation wireless CXDI detectors, and imaging software. The x-ray detectors (IP 57) are ultra-lightweight and waterproof, with integrated battery and image storage. They  can be used on board or stand-alone as needed.
Up to 4 detectors can be used with the x-ray system to provide optimal positioning and imaging flexibility. The detectors can for example:
Be shared between X-ray rooms.

Be used for mobile X-ray solutions

Be used in the holder or wireless
Do you want to know more about our X-ray systems?