PREMIUM CANON DETECTORS
X-ray DETECTORS
Arcoma X-ray systems are powered by Canon's wireless next generation detectors and imaging software. These ultra-lightweight and waterproof x-ray detectors with image storage, are ideal for usage on board or stand-alone as needed.
The new generation Canon wireless detectors for X-ray systems
Canon's new mid-range generation wireless systems bring you a new range of possibilities in digital radiography.
The range of  x-ray Canon detectors (CXDI-702C Wireless and CXDI-402C Wireless) are IP55 dust- and waterproof, and offer a clean and easy to use detector design.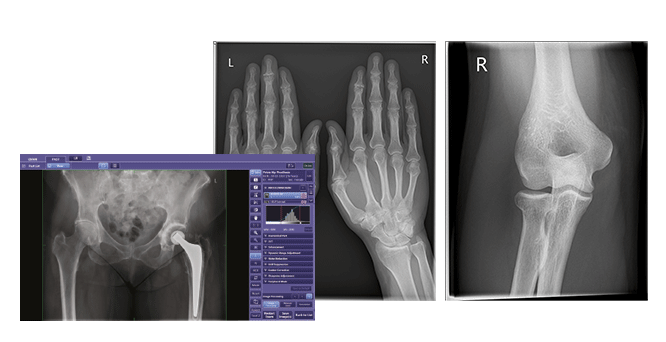 Optimized image quality with the lowest possible dose
The Arcoma X-ray systems with an optimized beam geometry, together with Canon flatpanel detectors and image reconstruction software, guarantees the best possible image quality at the lowest possible dose.
Comprehensive image processing including 'Scatter Correction' and 'Advanced Edge Enhancement' as imaging options, in order to optimize the x-ray images even with a low dose.
Light and wireless Canon detectors
The Canon detectors are carefully designed to achieve the lightest possible weight for the best ergonomics and workflow for the user. The detectors are portable and wireless, which together with Arcoma's X-ray system enables the highest possible patient throughput.
Despite their featherlight characteristics, the carbon fibre chassis and frame ensure high performance and high durability, tested for the stress of daily use.
Strong and durable detectors for X-ray systems
Although the chassis and frame are lean, high performance and durability are ensured. The use of lightweigh materials improves the weight of the Canon detectors as well as the strength and durability.
The detectors can withstand a load of 310kg, which allows direct weight-bearing imaging with obese patients.
COVERS CAN BE REPLACED IN CASE OF DAMAGE
Dust and waterproof x-ray detectors
Contact with fluids and dust is inevitable, particularly in emergency- and high-dependency care. The IP protection against dust and liquid entering the FPD provides you with extra assurance in the product, while it is in use under challenging conditions, or when cleaning the detectors for safety.
The CXDI-702C Wireless and CXDI-402C Wireless are both IP55 dust and waterproof.
The CXDI-401C Compact, CXDI-810C, CXDI-710C, CXDI-810C and CXDI-410C are all IP57 dust and waterproof.
Ergonomic design
The ergonomically sculpted detectors for digital radiography includes many features that enhances both the users and patients experience. A comfortable hand grip enables efficient and easy transfer of the detectors.
The detectors are also easy and pleasant to handle and to position, due to the selection of high quality materials. The ergonomically shaped cover makes the detectors comfortable to use for the operator during and between x-rays.
EASY AND COMFORTABLE TO HANDLE
Multi-function storage
The multi-function docking station combines the following capabilities in one compact desktop unit to help make your work and workflow even more convenient.
Detector battery charging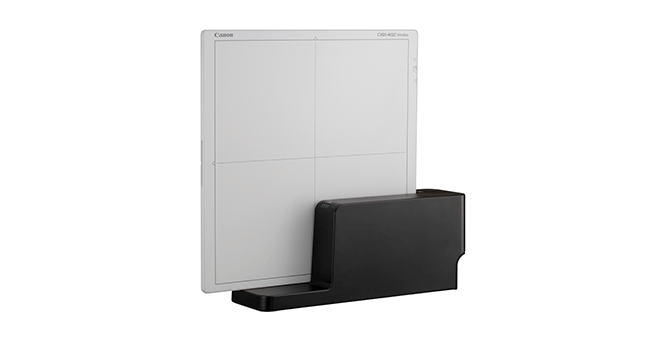 Detectors applicable with Arcoma X-ray systems
CXDI-401C Compact
Dimensions: 46 x 49 x 1,5 cm
Weight: 7 kg (including cable)
CXDI-410C Wireless
Dimensions: 42.6 x 41.5 cm
Weight: 2.8 kg
CXDI-710C Wireless
Dimensions: 35.0 x 42.6 cm
Weight: 2,3 kg
CXDI-810C Wireless
Dimensions: 35.0 x 27.4 cm
Weight: 1,8 kg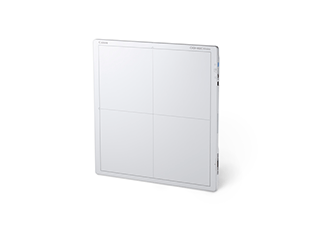 CXDI-402C Wireless
Dimensions: 35.0 x 42.6 cm
Weight: 3,1 kg
CXDI-702C Wireless
Dimensions: 41.5 x 42.6 cm
Weight: 3,7 kg
Read more about the Canon detectors.
Read more about the CXDI-710 Series.
(CXDI-410C, CXDI-710C, CXDI-810C)
Read more about the CXDI-702 Series.
Do you want to know more about our X-ray systems?